Introduction to horse riding: A beginner's guide to getting started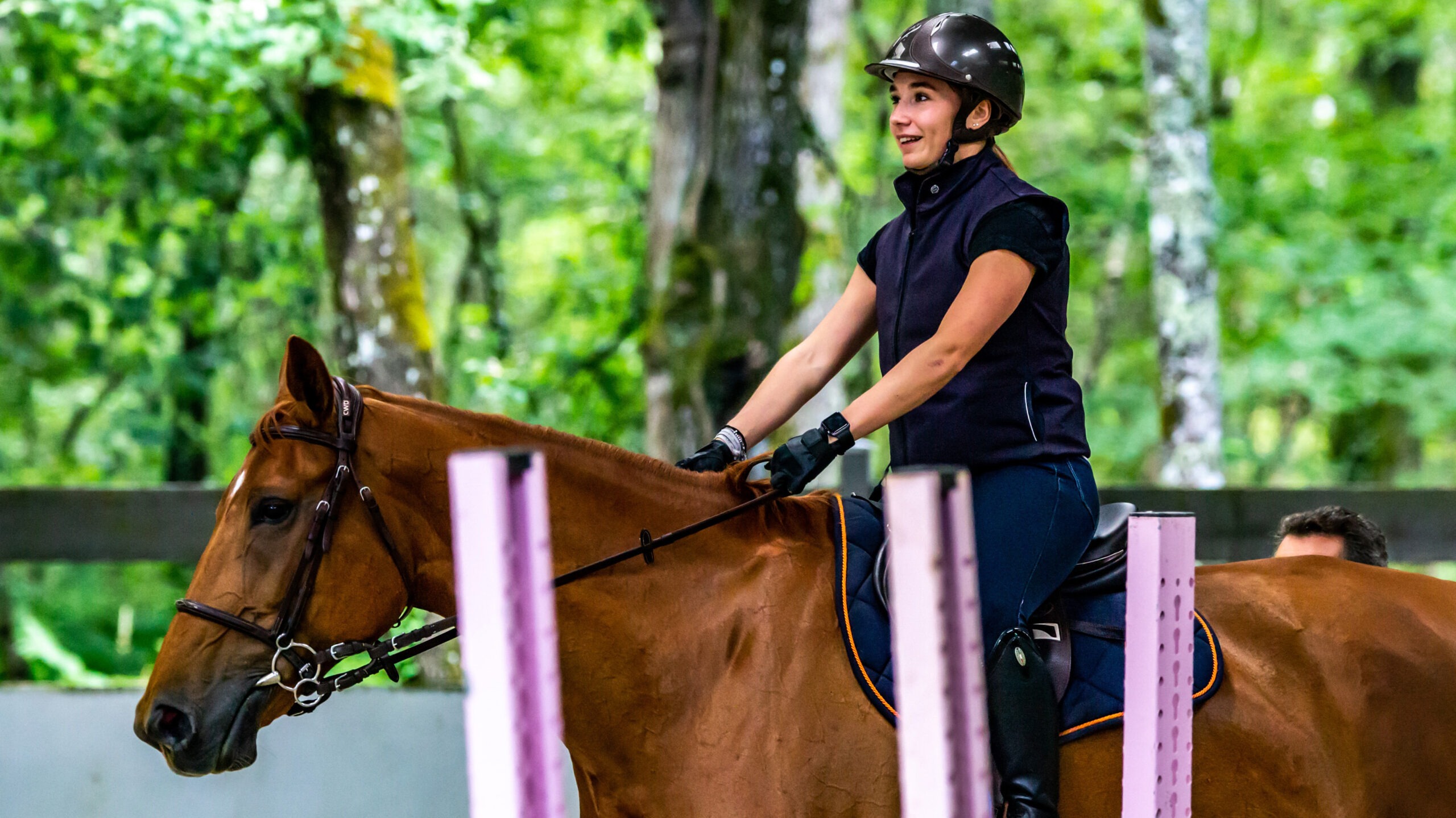 Join H&C+ Today
Have you always wanted to get into horse riding? Perhaps you often watched racing or equestrian events on television and wondered what it would be like to be in the saddle. Or, maybe you took a few lessons as a child, but now wish to get back into horse riding as an adult. Whatever your reasons, there's no doubt that riding is a very appealing sport. And, once you get started, it can become a lifelong passion.
However, it can be a bit overwhelming for total novices. There are some persistent myths out there around horse riding, and many people still think that you need to have a lot of money or own your own horse to practice regularly. But, in reality, riding is an accessible hobby that is open to people from all walks of life, and it's often less costly to give it a try than many people realise. Plus, there are all sorts of benefits to horse riding that make it well worth the time and money.
If you fancy joining the 1.8 million people in Britain who love to ride regularly[1] (BETA), we've put together this beginner's guide that will tell you everything you need to know before you start. We'll talk you through:
The benefits of horse riding
If you're reading this guide, it's safe to say you're probably already quite interested in giving riding a try. But, just in case you're still making up your mind, we've shared seven benefits of horse riding below.
1. It's a fun, effective form of exercise
It can be easy to assume that riding isn't an especially challenging physical activity: after all, surely the horse does most of the work and the rider sits back and relaxes? But, far from being an easy rise, it's actually a very effective workout.
According to CaptainCalculator, the average adult will burn around 250–400 during an hour of steady horse riding[2]. A more strenuous riding session involving a lot of trotting, cantering, and galloping can even burn as much as 550–700 calories per session. When you consider all of this, it's little wonder that competitive equestrians are usually so fit!
Riding is also great for strengthening and conditioning the body, too. When you're on horseback, you need to use your strength and muscles to stay in the saddle and maintain your balance. During riding, you'll need to constantly re-adjust your position to match the horse's gait, forcing you to engage your core, pelvic muscles, and inner thighs. It also improves your overall posture, balance, and co-ordination.
Plus, you won't just be exercising when you're on horseback: mucking out the stables and carrying hay, feed, and tack around the yard can also be quite the workout. Best of all, time flies when you're spending time with horses, so it won't even feel like exercise.
2. It helps you feel more confident
Learning any new skill can be a real confidence boost, and horse riding is no exception. Mastering the basics, earning the trust of your horse, and gradually refining your technique are all incredibly rewarding experiences, and you'll get a real sense of achievement from them. And, as your confidence on horseback increases, you might find that this self-esteem translates into other areas of your life, too.
3. It's a great mood booster
Spending time with animals, getting out in the fresh air, and regular exercise are all known to help boost our mood, and can even improve our long-term mental health. Horse riding offers all of these benefits in one go, if you're looking for a hobby with that feel-good factor, this could be the one for you.
4. Therapeutic benefits
Spending time around horses is often considered to have therapeutic effects, so much so that equine therapy is often used to help people with anxiety, mental health conditions, or sensory difficulties. These days, some smaller horse breeds (particularly Shetlands) are even trained to work as therapy animals, visiting schools, care homes, and hospitals so residents can benefit from the calming effect of these lovely companions. Think you need a little more calm in your life? Then horse riding could be a very therapeutic activity for you.
5. Responsibility
Although you won't be required to provide much care for a horse that's owned by a riding school, you'll still learn a lot about the needs of these animals as you progress. For one thing, you'll learn how to handle a horse safely and responsibly when you're out on a ride or leading them to and from the yard. Depending on the school you attend, there may also be opportunities to tack up your horse and help provide some basic care for them when stabled, such as mucking out and feeding.
This can be a great insight into the responsibilities of caring for an animal, especially for children and young people. And, if you think you might like to have a horse of your own one day, this can help give you an idea of whether the responsibilities and commitment are something you might enjoy.
6. It's a great way to meet new people
The equestrian world is a very social community, and taking up riding can be a great way to make like-minded friends. Whether you're spending time in the stables grooming your horse, hacking out with a group of other riders, or attending lessons at a riding school, there are plenty of opportunities to get talking to people who are passionate about horses. Once you've built up some experience, you could even consider taking part in events and competitions, where there's often a thriving social scene, too.
7. Companionship
In addition to all the wonderful people you could meet when you start riding, you'll also get to build a connection with your horse, too. Horses are wonderful companions, and it's not uncommon for experienced riders and serious competitive equestrians to refer to their horses as their best friends, or even members of the family. One you start riding, you'll soon discover the unique bond that develops between horse and rider, and learn just how rewarding and fulfilling this can be.
How to get into horse riding
Once you've decided that the time is right to start riding, the first step is to find a riding school or instructor near you. An experienced professional will be able to pair you with the right horse for your height and weight, and will be able to take you through all the basics of learning to ride.
When choosing a riding school, there are a number of things to bear in mind. Firstly, any riding school you pick should be registered with the Local Authority: this ensures they are operating in a legal and ethical way. You could also go one step further and choose a school or riding centre that is registered with the British Horse Society. The Society works to promote a high standard of equine welfare and high-quality teacher, meaning you can be sure you're in safe hands.
Another consideration is cost. If there are a few good riding schools in your area, you may want to get quotes from each one, to see which offers the best value for money. There's also the issue of location to consider: if you need to travel a long way to get to your chosen riding centre, it may make it harder to commit to frequent lessons, so you'll have to weigh up how far you're willing to go.
While the cost of lessons may be a big consideration, remember that it's not the only thing that matters: you should also consider the teaching style. If you have your heart set on learning a particular equestrian discipline — like dressage, jumping, or eventing — you may want to find an instructor or school who has experience in this area.
Once you've booked a lesson, you may want to spend a bit of time getting to know your horse before you actually get in the saddle. Establishing a strong relationship with the horse you'll be riding is very important and will help to ensure a better riding experience for you both, so it's best to take the time to do this properly, rather than rushing straight in. For example, with the assistance of your riding school, you could spend some time grooming them before your first lesson to help them get a bit more familiar with you before your lesson.
All horses are individuals with their own unique "personalities", and some horses and riders get on better than others. Finding a horse that you can really bond with is often a matter of trial and error, and sometimes, it doesn't always work out on the first try. So, if after your lesson your instructor feels you might be better suited to a different horse, don't take it as a reflection on your ability as a rider — it's just something that happens sometimes. And, when you find the right horse, you'll soon realise just what a difference it can make.
How long does it take to learn to ride?
Becoming competent can take time. Exactly how long it will take you to master the basics — such as trotting, cantering, and steering and directing the horse — will depend on a number of factors, including the skill of your instructor, your own ability and fitness, and the frequency and duration of lessons you undertake. As with almost any sport, practice and hard work make all the difference. So, be patient with yourself, and stick with it. In many ways, even the most experienced riders never stop learning.
When learning to ride, it's also important to be resilient and maintain a positive attitude. Horses are living creatures, and they can have good days and bad days, just like we do, so you may also find that there are days when they may be sluggish or don't respond well to you. A few falls or difficulties here and there are bound to happen, but being able to overcome these setbacks will be key to making progress. In other words, be prepared to "dust yourself down and get back on the horse" from time to time, as the saying goes!
How much is horse riding?
Lessons fees can vary greatly depending on a number of factors, including the prestige of the school or instructor, and where in the UK you are based. You can also expect to pay more for intensive private tuition, while group lessons or hacking out sessions will cost less.
According to research from SEIB, a riding lesson could set you back anywhere from around £21 to £75, depending on the class size, riding level, and location of the school[3]. The simplest way to get an idea of the costs in your area is to phone around and ask for quotes. You might find that the easiest way to reduce costs is to go for a mix of private and group sessions, rather than private lessons exclusively.
Is horse riding dangerous?
Like any sport, horse riding comes with a few risks. Horses are creatures with a will of their own, and so it's never possible to completely predict or control their behaviour. But, as long as you work with a skilled, experienced instructor and don't try to take things too fast, you should be in safe hands. It's also important to always wear properly fitted riding hat that meets the right safety standards whenever you're riding or around horses. This will provide crucial protection in case of a fall or kick.
If you like, you can also help to make yourself feel a bit safer by wearing a body protector. This isn't a total safeguard against any and all accidents and injuries, but it will provide a bit of extra protection against falls or kicks, and can help boost your confidence while you get used to being around horses.
Who can take up horse riding?
Almost anyone can take up horse riding, and it's never too late to start. Many children start riding lessons as early as six or seven — as soon as they're old enough to safely hold themselves in the saddle and reach the stirrups. There's no upper age limit, either. The Queen is still frequently spotted going out for a ride on one of her black Fell ponies, despite being well into her nineties!
Riding is also accessible to people with physical disabilities or special needs. Organisations such as Riding for the Disabled work to facilitate riding sessions for those with physical conditions or learning disabilities, and there are also countless events and competitions that offer disabled people a chance to compete, from beginner and intermediate level, right the way up to the Paralympics.
One possible limitation that may mean you cannot ride a horse is your weight. As a rule of thumb, even the largest horses cannot safely carry individuals who weigh more than 350lbs, or around 25 stone. If you'd like to learn more about this, read our guide to what size horse you will need.
Do you need your own horse to start riding?
You don't need your own horse to start riding. Many people will ride horses that are owned by riding schools or liveries, instead. Given the cost of owning a horse, normally only very keen riders who have quite a bit of experience and plan to ride or compete very frequently decide to go down this route. However, of course, if you try horse riding and find that you love it, buying your own horse or pony could always be an option for you in future!
What equipment do you need to start riding?
So, you've found a local riding school or instructor, and you've booked your first session. But, what equipment will you need to bring with you on the day?
When taking lessons on a horse that belongs to a riding school, you won't need to provide your own tack (the name given to the equipment and accessories worn by the horse during riding, like saddles, bridles, stirrups, reins and harnesses). However, it is helpful to wear comfortable clothing to your first lessons. You'll also need some basic safety gear, which the livery or stables may be able to provide for you. Then, if you fall in love with riding, you can go ahead and purchase equipment of your own.
Here, we've outlined what's essential, and what's nice to have for your first few lessons.
Essential equipment:
A riding hat: A riding hat is a sort of hard helmet that protect the head during riding. It's always important to wear a properly fitted hat when riding, but especially so for novice riders. Although many riding schools will provide hats for beginners to borrow, you should definitely buy your own after a few lessons, as this will be more comfortable and should fit you better. To learn more about this, check out our guide to choosing a riding hat.
Comfortable clothing: You don't necessarily need to buy a full riding outfit at this stage, but it will be helpful to wear clothing that allows for flexible movement. Trousers should be close fitting and made from a soft fabric, and preferably free of thick seams in the inner leg and groin area, as these might feel quite uncomfortable when you're seated in the saddle. A loose T-shirt and short jacket (if it's cool outside) will be fine on top — just make sure you can move your arms freely. Remember, it's always better to wear lots of thin layers, so you can take them off if you get too hot.
Flat boots: For your first lesson, you'll need a pair of flat-soled boots with a covered ankle and a small heel. These should fit comfortably within the stirrups and give you just enough grip and traction to control the horse. However, it's important that the heel is small and low enough that the boot won't get stuck in the stirrup if you're unseated. If you don't have a suitable pair, your riding school may even be able to arrange for you to borrow some for your very first lesson.
Not essential but nice to have:
Jodhpurs or breeches: While you can wear a pair of leggings or other tight-fitting exercise trousers or joggers to your first lessons, a pair of proper riding jodhpurs or breeches is always going to be much more comfortable. They're designed to be extra close-fitting, which prevents rubbing or chafing, and they're made from a special type of fabric that will stop you slipping around in the saddle. You can also buy insulated jodhpurs for cold-weather riding, which may be helpful if you're starting lessons in the autumn or winter.
Riding boots: If you decide to continue after your first few lessons, you'll definitely want to invest in a pair of proper riding boots. Most new riders go for short boots rather than long (knee-high) ones, as this allows for more flexibility at the ankle, which can be helpful when you're still learning to use your legs to direct the horse.
Gloves: A pair of thin gloves with help prevent the reins from chafing your hands, and will keep your hands warm in the cooler months. If you're serious about getting into horse riding, we'd recommend investing in a pair of specially designed riding gloves. These are made to help reduce rubbing or chafing on the hands during riding, especially between the little and ring finger, which is where the reins will pass through.
Protective gear: Although it's not essential, some new riders choose to wear a body protector. These are padded, reinforced vests that provide some extra cushioning and protection in case of a fall or kick from a horse, and can help you feel a little more confident when you're still mastering the basics. We would recommend visiting a professional equestrian outfitter for this, as they will be able to advise on you on the best size and fit.
Sports bra: Women may prefer to wear a comfortable and supportive sports bra or vest during lessons, especially once you progress to trotting and canter work.
Once you're suited and booted, you're all ready to get out there and enjoy your first time on horseback!
What sort of horse riding interests you? Picking an equestrian sport
Once you've mastered the basics with an instructor, you may want to focus your attentions on a particular equestrian discipline. There are lots of different types of equestrian events, competitions, and sports out there that you may wany to try once you've built up your skills, abilities, and confidence:
Dressage: Sometimes known colloquially as "horse dancing" or "horse gymnastics", dressage is an advanced form of riding that sees the horse and rider perform difficult manoeuvres, often in a menage or arena. It requires lots of training and skill, as well as a strong, trusting bond between horse and rider. You can learn more about this in our guide to dressage.
Show jumping: Show jumping, also sometimes called "stadium jumping" or just "jumping", pits horse and rider against a series of fences, jumps, and water jumps of different heights and widths. Performance is judged either using a system of points and faults as well as the time taken to complete the course. In certain events — including the Hunter division — judges may also score the horse's performance, soundness, manners, and rider's ability. To read more about the different divisions, take a look at our show jumping guide.
Eventing: A combination of jumping, cross-country, and dressage — a bit like a triathlon. Often considered the ultimate equestrian challenge, horses and riders must demonstrate skill and ability across all three disciplines. You can learn more about this in our guide to eventing.

Cross-country: Cross-country — also known simply as XC — is an eventing phase that involves riding at speed across a long obstacle course, tackling jumps, ditches, and other obstacles along the way. The course is designed to simulate riding fast across open countryside, hence the name.
There are also other disciplines recognised by the FEI (Fédération Equestre Internationale or International Federation for Equestrian Sports). These include vaulting, driving, and reining, so you're bound to find one that interests you.
However, you don't need to compete in any of these sports in order to enjoy horse riding, and many keen riders prefer to just take lessons for leisure, without ever entering any formal competitions. Leisure rides might take place in an arena or hacking out in open fields and countryside.
Hopefully, this guide has provided you with information you need to take the first step in your journey to becoming a rider. Remember, you can continue to develop your horse-riding knowledge further by taking a look at our helpful equestrian guides.
Here at Horse & Country, we offer a huge variety of equestrian entertainment and programming, including sports coverage, training and learning tutorials, and entertainment and documentary features. Simply subscribe to our service to access a world of equestrian content produced especially for horse lovers.
[1]https://www.beta-uk.org/pages/news-amp-events/news/beta-national-equestrian-survey-2019-reveals-an-increase-in-riding.php
[2] https://captaincalculator.com/health/calorie/calories-burned-horseback-riding-calculator/
[3] https://www.seib.co.uk/2020/01/27/how-much-do-horse-riding-lessons-cost/