What riding hat should I buy? A guide to horse riding helmets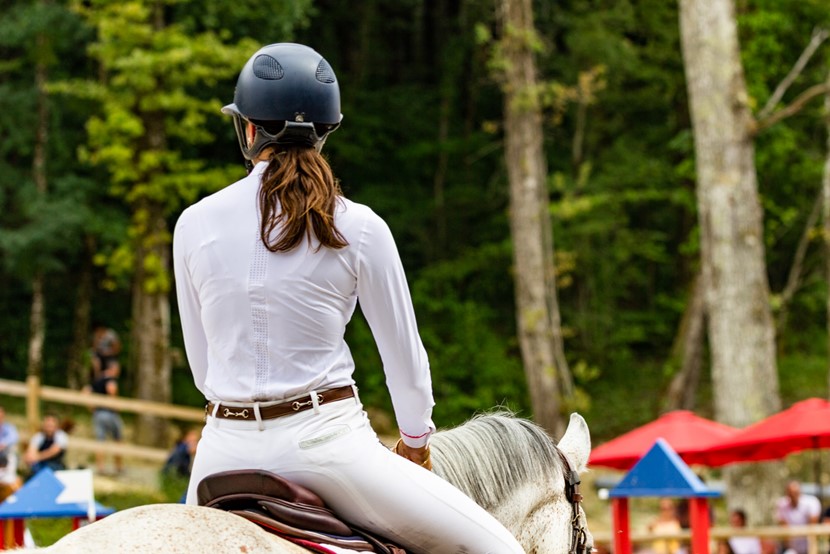 Join H&C+ Today
When you're new to equestrianism, finding the right riding hat to suit your needs can seem like a challenging proposition. There are quite a few types on the market, so it can take a little bit of know-how to get on the right track.
To help you get started, we've put together this detailed guide to riding helmets, which will take you through the basics, explain the different types of hat available, and guide you through measuring up and fitting the right helmet. We'll also provide advice on other areas around equestrian headwear.
We will cover:
Riding helmets: the basics
Your riding hat is designed to protect you from falls and other potential head injuries when you are riding or working with horses. They're specially designed to absorb a sharp blow, such as if you fall off your horse and hit your head or a horse accidentally kicks you in the head.
There are many types of helmet to suit various equestrian activities, and they're available in a wide range of sizes for all ages, ensuring that you can always get a secure fit.
What is a riding hat made from?
Riding hats come in different designs, shapes, and sizes, but they generally have a similar four-layer build to deliver maximum protection. Each layer plays a key role in the safety of the helmet. Your hat will also have a couple of other features to enhance comfort and safety.
Outer layer
This is the layer you can see and feel on the outside of the hat — it's also known as the "finish". Depending on the type of riding hat you're buying, this outer layer will be covered in a different material. However, while they offer different cosmetic appearances, they all serve the same purpose — allowing your head to slip across a surface if you fall to disperse energy away from the blow.
Common finish materials include:
ABS
Acrylic
Carbon fibre
Crocodile-effect
Glass fibre
Leather-look/vegan leather
Nubuck
Synthetic
Suede
Fibreglass or plastic shell
This second layer is the first point of protection when guarding against skull fractures. The curved shape of the shell has the ability to distribute the impact across a larger surface area before the force reaches the layer below.
Expanded polystyrene layer
This third level is made of a thick layer of expanded polystyrene (EPS), which acts as a shock absorber. EPS is similar to bubble wrapping, as it's made up of tiny beads that are designed to burst on heavy impact and soak up the blow, protecting your brain from bruising and concussion. The beads are designed to break, so if you hit your head or drop your helmet from a height, you will need to replace it.
Headband
The headband (or liner) is the innermost layer that maintains contact with your head. This layer is made with padding and sizing foam to mould to the desired shape and provide a secure fit. The liner also allows your head to slip across its surface on impact to reduce the chances of brain shear. Some helmets feature a headband that is removeable, so they can be washed, replaced when worn, or swapped for a thicker or thinner version to suit your head.
Other riding hat features
Alongside the crucial four layers of protection that make up the main body of the hat, there are a few more features that your helmet may have to improve safety and comfort. Some of these, like the harness, are present on every hat, while others may or not be included.
Peak
Many riding hats feature a peak that is designed to keep the sun and rain out of your eyes when you are riding your horse. Depending on the design of the hat, these can be a regular or wide brim that offer less or more coverage respectively. Some also favour a flexible peak that offers a degree of movement, as it's thought that a fixed peak riding hat has the potential to cause hyperextension of the neck if you hit your head during an accident.
Harness
The harness — also called the chin strap — is the strapping that is attached to the riding hat and is fastened under the chin to keep it in place. It is designed to be adjustable so that you can lengthen or tighten the strap to achieve a comfortable, secure fit. Some riding helmets also feature a strap that comes down from the back of the helmet, which is there to stop the hat tipping forward.
Ventilation
Horse riding can be tiring work, and it's easy to feel warm under your helmet. Some hats have vents built into them so that a cooling airflow can reach your head. Typically vents are understated and designed to fit into the look of the hat. The hats are also subjected to the same standard of testing, so the extra ventilation does not compromise safety.
Riding hat silk or cover
A riding hat silk or cover can also be added to some helmets. These can range from brightly coloured and patterned silks used for horse racing and cross country to more understated designs found in eventing circles. They are added for aesthetic purposes or, in the coloured variety's case, to make the rider more visible and identifiable against the backdrop.
When do you need to wear a riding hat?
A riding hat is essential safety wear when you're riding or around horses — not only will it protect you when you're up in the saddle, but it will safeguard your head if a horse kicks or bolts at ground level. This essential protection is why you should always be wearing a suitable helmet when working with horses, whether you're riding or not. In fact, some stables and livery yards enforce a rule that you must be wearing a hat whenever you're in contact with the horses.
If you watch any events, including show jumping, dressage, and cross country, you'll notice that all of the competitors will be wearing their hats at all times when around horses. This is because wearing a certified helmet is mandatory as part of the vast majority of competitions' rules, so you'll definitely need one if you wish to participate in competitive riding.
Does UK law say you need to wear a riding helmet?
Currently, there is no legal requirement for adults to wear a helmet when out riding. However, for children under the age of 14, Rule 49 of the Highway Code states that they need to wear a hat that is fastened securely. The Code also advises any other riders to follow these rules.
It should also be noted that if the worst happens and you have to make an insurance claim for an incident that happens when you are out riding, you may be asked if you took steps to make sure that the risk of injury was reduced. Depending on your insurer, they may see not wearing a helmet as an invalidation of this clause and reduce or refuse compensation.
What are the types of riding helmet?
There are a number of different types of riding hat to suit various disciplines of horse riding. This is because riders performing a particular activity might be exposed to different risks to others, or the culture around a discipline might require a particular look or dress code. It's fairly common for riders who participate in different areas of equestrianism to own several types of riding helmet.
Take a look at the various types of hat we've listed below and decide what's right for you — you can then start to browse helmets to match your needs.
General purpose riding hats
Uses: General riding, showjumping, dressage, hacking
General purpose riding hats are designed to offer protection across a wide range of activities, from day to day riding to events like showjumping and dressage. They can very in design and style, but many feature a smooth finish, a fixed or flexible peak, and some form of ventilation. Some riders, depending on the activity, will wear these plain with no silk or customisation added, though many general purpose helmets can have this added when it's necessary.
Velvet riding hats
Uses: Showing, showjumping, hunting, hacking
Velvet riding hats are the traditional choice of helmet in English riding circles, typically featuring a rounded shape covered in black velvet or velveteen and a small peak. Their design reflects the more conservative look that is tied to the history of equestrianism, as they're based on the non-protective headwear that was worn before safety was made a priority. Despite being based on a heritage style, modern velvet riding helmets meet the same safety standards as other types of hat, but they may be missing some of the more modern features, such as ventilation.
They're most commonly seen in disciplines that require a more formal attire, such as showing and hunting, but can also be found in areas like showjumping and hacking, where dress codes are more mixed. You not likely to see velvet riding helmets in dressage, and definitely not in cross country.
Skull cap riding hats
Uses: Racing, eventing, cross country, hunting, schooling, hacking.
Skull cap riding hats are helmets that cover more of the head than other styles, and will usually have no brim or a false brim for greater visibility. They're also tested to the highest safety standards. They are most commonly worn by cross country riders and race jockeys, but the style has also made its way into other disciplines. Riders will often attach a brightly coloured silk to the outside of the hat, particularly in racing and cross country, where judges need better visibility when watching from afar.
Polo riding helmets
Uses: Polo
Polo helmets are specially designed for the equestrian sport of polo. As matches are fairly intense, these riding hats offer an extra level of protection, an extra wide brim, and sometimes have a face guard attached. Their chin strap is usually reinforced for additional security. These helmets are not used in any other areas of equestrianism.
Single-size and adjustable riding hats
Single-size and adjustable helmets offer a single size hat or one that can be adjusted. They aren't really a type of riding hat in the same way as the others here — instead, we're referring only to the fit they provide. In fact, you can find versions of the other types in each of these styles.
Single-size helmets are made in individual sizes, so it may well be necessary to measure up and try on different hats until you find the correct fit. An upside to choosing this type is that there tends to be a wider range of products available, so you will have more choice when shopping. Some single-size hats are also able to offer superior protection around parts of the neck and head. For children, this type of hat isn't the most ideal, as you will need to replace each one as they grow.
On the other hand, an adjustable riding hat typically features a headband, strap, and padding that can be altered. This means they can provide the right fit for different head sizes (including rounder and more oval shapes), which is ideal for scenarios where hats might be shared or for kids who are still growing. This is particularly advantageous for children, as they can own one helmet without any danger of it becoming too small. These hats have appeared relatively recently, so they usually have modern features, like ventilation, built in. The big drawback for these hats is that if you don't adjust them properly, they will be much less secure when worn.
What are the horse riding hat safety standards and ratings?
Once you have familiarised yourself with the basics of riding hats and have an idea of the type of helmet you will need, you can look at different products in more detail.
In particular, it's worth paying attention to the safety standards that a helmet has been tested to, as this will tell you how much protection it will offer. Not all riding hats are tested equally, and you will probably come across ones that have undergone more rigorous examination than others. Also, bear in mind that competitive riding competitions and some schools require you to have a hat that meets particular safety standards, so be sure to check with the organising body as to what these are.
There are three widely used international riding hat safety standards, plus one extra standard that's used for more extreme testing (SNELL E2016):
Safety standard
Testing carried out
PAS015:2011

A standard developed by the British Standards Institute (BSI). It is the most rigorous of the three regular standards for helmets.

Flat surface impact from 1.8m
Hazard edge impact from 1.3m
Penetration test from 75cm
Crush resistance 800N

VG1 01.040 2014-12

A standard developed by the British Standards Institute (BSI). Not as rigorous as PAS015:2011.

Flat surface impact from 1.8m
Penetration test from 50cm
Crush resistance 630N

ASTM F1163:2015

The American safety standard for riding hats. It is similar to PAS015 but does not test for crush resistance or penetration.

Flat surface impact from 1.8m
Hazard edge impact from 1.3m

SNELL E2016

A new standard developed by the American Snell Institute that is the most rigorous test, including the replication of a horse kick.

Flat surface impact from 1.9m
Hazard edge impact from 1.3m
Round surface impact from 1.5m
Penetration test from 100cm
Crush resistance 1000N
When it comes to choosing a helmet, it goes without saying that the more safety standards it's been awarded, the more confident you can be that it will provide the right level of protection. You can see what safety standards a helmet has been awarded by looking for the corresponding symbol on the helmet itself or its packaging — the BSI kitemark, ASTM SEI logo, or SNELL mark are shown below.
You should also look out for the CE mark on your helmet, which certifies that it conforms with the European standards for production. It is worth noting that, as a result of Brexit, this changed to the UKCA mark from 1 January 2021, though companies can keep using the CE mark until 1 January 2022. Both markings are shown below.
How to measure for a riding hat
So, now you've decided on the type of riding hat you need, and you have found a helmet that meets the right safety standards, you can begin to think about finding the right size for you. To do this, you will first need to know how to measure for a riding helmet, so that you can choose one that has a secure fit. Below, you will find step by step instructions for measuring your head, as well as a table of horse rising hat sizes that will let you know what you need to buy.
Take a soft tape measure and place it around your head horizontally at the widest part. Be sure to do this over your hair, as this is where the hat will sit.
The tape should be sitting about 2cm over your eyebrows, above your ears, and around the inion (bump on back of head).
Pinch the tape where it meets itself and remove it from your head, keeping your fingers on the mark. Read the measurement in centimetres. You may wish to repeat this process a couple of times to ensure your reading is accurate or get someone else to check.
Compare your measurement with the table below to find out what riding hat size you need.
Horse riding hat sizes
These are the standard horse riding helmet sizes in the UK — you can use your measurement as a starting point to begin finding the right one. If you fall between two sizes, it's usually best to go up a size if you don't have the option to try both on.
Please note: The sizes that are 55cm and below are generally classed as children's sizes.
| | | |
| --- | --- | --- |
| Head size (cm) | Riding hat size | Skull cap size |
| 49 | 6 | 000 |
| 50 | 6 ⅛ | 000 ½ |
| 51 | 6 ¼ | 00 |
| 52 | 6 ⅜ | 00 ½ |
| 53 | 6 ½ | 0 |
| 54 | 6 ⅝ | 0 ½ |
| 55 | 6 ¾ | 1 |
| 56 | 6 ⅞ | 1 ½ |
| 57 | 7 | 2 |
| 58 | 7 ⅛ | 2 ½ |
| 59 | 7 ¼ | 3 |
| 60 | 7 ⅜ | 3 ½ |
| 61 | 7 ½ | 4 |
| 62 | 7 ⅝ | 4 ½ |
| 63 | 7 ¾ | 5 |
| 64 | 7 ⅞ | 5 ½ |
| 65 | 8 | 6 |
How to fit a riding helmet
With a horse riding hat size in mind, you can narrow your search right down to a few that feel like they might be a good match. However, to make the final decision, you need to check the fit of the helmet to ensure that it's just right. Doing so is an important final check that will ensure any hat you buy does not prove uncomfortable after long periods of riding.
Your hat should fit firmly on your head but without causing any discomfort or undue pressure. It needs to be snug so that it can effectively stay in place during the motion of riding. A hat that is too tight can end up causing pain and headaches, while a hat that's loose won't offer full protection.
Also, bear in mind that, while most people have an oval shaped head, it may be the case that your head shape is rounder. There are helmets on the market to match both, but you may need to try a different style if none are providing the right fit. Some hats have both oval and round shaped versions, so you may not even need to find another product.
You can follow these tips to make sure any hat is a good fit:
Put the hat on correctly: If a hat fits you well, it should be possible to get something called "the lock", which means the helmet should feel like it's gripping the back of your head. So, try to put the hat on correctly: put your forehead into the front and use a rolling motion to push the back down — that "lock" feeling should set in and there should be a suction sound.
Test the helmet's fit: Don't fasten the harness and try gently shaking your head — the helmet shouldn't move. Run your finger around the inside of the rim of the hat to see if there are any gaps. When you take the helmet off, there should be a feeling of suction that gently pulls your eyebrows upwards.
Check that it looks right: Try looking in the mirror. The riding hat should be sitting level on your head, covering all of your forehead to a point about 2.5cm above your eyebrows.
Check the harness: Check the harness laces at the back of the helmet are tightly tied, then try securing it under your chin. The strap should sit just under your chin, avoiding the throat, and gently grazing the bottom of your earlobe. You should be able to fit a finger between the strap and the chin comfortably.
Take your time: If a helmet seems like a good fit, don't rush to take it off right away. Wear it for five minutes and see what it feels like. This should give it enough time to mould to your head and reveal any hidden pressure points.
Fitting a child's horse riding helmet
If you're buying a horse riding helmet for a child, then you can still follow the measuring and fitting steps we outlined in the previous section. You can even use the same size chart — just remember that kids' sizes are typically 55cm and below when picking out hats to try.
However, there are a few things to consider when shopping for a child's riding hat. Firstly, don't ever be tempted to invest in a helmet that "they will grow into" to ensure it lasts longer. The fit needs to be secure, otherwise you risk them riding with a hat that is loose and won't keep them as safe. You should also check the fit of a potential hat yourself, as a child may find it difficult to grasp how vital it is for a helmet to have a tighter fit. That's not to say you can't give them any choice in the matter — try asking them what helmet design they like best to get them on board with the purchase.
Where can you buy horse riding helmets?
There are a number of places you can purchase a horse riding helmet. We would always recommend that you visit a specialist tack or riding shop if you're new to equestrianism. They are likely to have a wider range of helmets and sizes available to try on and buy, as well as being able to offer expert advice when it comes to choosing and fitting the right headwear. The British Equestrian Trade Association (BETA) provides instruction in hat fittings to retailers, so it might be a good idea to find a shop that offers BETA fitting advice — you can search their member directory to find a local shop.
If you don't live near a horse riding shop, you can purchase helmets online, though you may need to go through some trial and error buying and returning when finding the perfect fit. It is possible to purchase a lower cost helmet, but there's always the risk it won't be up to safety standards.
How much does a horse riding helmet cost?
Horse riding helmets can range in price — from budget options around £50 to more expensive hats priced at upwards of £250. Children's models tend to be cheaper, while professional competition grade headwear can be on the pricier side. However, we would encourage you to pay less attention to the price and more to the fit and safety standards that the helmet offers.
When should you replace a riding helmet?
Generally, most helmet manufacturers recommend replacing your riding helmet after 5 years of use, simply because this is the period of time after which wear and tear can begin to compromise safety.
In addition, you should always replace your helmet if it suffers an impact, as the protective features of the helmet can be damaged. While the hat may look fine from the outside, the delicate EPS layer within the helmet may have absorbed the shock and burst (as it's designed to), so it won't be able to provide the same degree of protection the second time around.
What should you do with old riding helmets?
When the time comes to replace an old or damaged riding helmet, you need to dispose of it so that they can't be reused. This is because anyone who reuses the hat will be putting themselves at risk. An easy way to make the helmets unusable is to cut away the harness and straps.
Choosing the right riding hat can be a challenge, but hopefully this guide has gotten you up to speed on helmet basics, the different types available, safety standards, and measuring for and fitting a riding hat. You'll also have a good idea about buying a helmet.
At Horse & Country, we also have a wide range of equestrian video content to enjoy, like sports coverage, training and learning tutorials, and entertainment and documentary programmes. You can also get updates on the latest news and live events. Subscribe to our service to get started.