Whitaker wins at Al Shaqab international show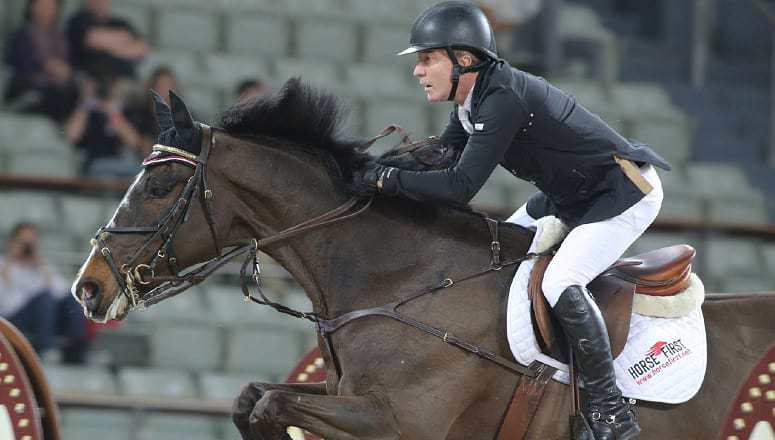 Join H&C+ Today
Michael Whitaker has been flying the flag for Britain out in Qatar, which has hosted its secondinternational competition, at Al Shaqab equestrian centre(10-15 March).
Closely fought
Michael, 53, won the show's first CSI5* class on the Wednesday, riding Amai. It was a closely fought contest, with less than 3sec between the top five places.
Michael managed to finish out front with a clear in a time of 64.25sec. Just behind him was Portugal's Luciana Diniz and Upper Star who came second on 65.50sec, and Ireland's Shane Breen who took third place with 66.17sec riding Confident of Victory.
Michael also came third in the €91,000 Euros CSI5 class the following day, after he jumped a double clear. It wasn't quite fast enough to beat Olympic gold medalist Steve Guerdat who won the class with Nasa, while Belgium's Pieter Devos came second riding Candy.
Great round
Steve was victorious once again on Friday, this time riding Sidney VIII. Michael couldn't quite make the top three in this five-star competition, and had to settle for fourth place onboard Elie Van de Kolmen.
Shane Breen rode a great round with Confident of Victory to take another third.
The biggest class of the show, was the CSI5* Grand Prix on the closing day, with the attending course builder Bob Ellis setting a typical tough course.
Very happy
It was Ludger Beerbaum who won the class, jumping one of only two double clears, and heading home to Germany €214.500 the richer.
"This is my third show in Doha," he said. "In CHI Al Shaqab 2013 I came in fourth with Chiara and in the Global Champions Tour final I placed second. I've now come first so you can imagine how happy I am."
Belgium took both second and third place, with Gregory Wathelet on Sea Coast Forlap and Nicola Phillippaerts on Cortez, respectively.
Grand Prix Dressage
Alongside the showjumping was CDI5* dressage, which was saw 22 riders from 11 countries competing.
Britain's Anna Ross Davies came third in the Grand Prix Special with Pegasus MK on 66.667%. It was Swiss rider Melanie Hofmann who won the class riding GB Cazzago on 67.608%, which was just ahead of the Netherlands Joyce Heuitin and WUP who scored 67.314%.
In the Freestyle Grand Prix Princess Nathalie zu Sayn Wittgenstein from Denmark won for the second year running, riding Digby – who she announced she would retire at the show in 2013.
Best performance
"I said I would retire him from the team but not entirely," said Princess Nathalie. "I wanted to take some stress off him. I wanted him to have fun with no pressure and that's why we are here.
"He is really fit and I keep him fit at home. I know him so well and he's so smart. I think that's one of his best performances."